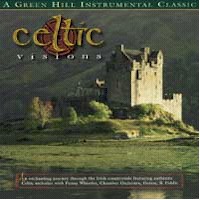 CELTIC VISIONS (Instrumental Music on Traditional Instruments)($15.98)
13.95
GH: 5027

Come along on an enchanting journey through the Irish countryside and quaint villages by the way of authentic Celtic melodies and musical themes. You'll feel as if you are being transported through time and geography by the symphonic sounds of a chamber orchestra and traditional Celtic instruments. Includes:
Derry Air (Danny Boy)/Slainte na nGhaodhal
Give Me Your Hand
O'Farrell's Welcome To Limerick
The Minstrel Boy
Cooley's Reel/Gan ainm, Duke of Leinster's Wife
Star of the County Down/An Chois Tinn/Sheebeg and Sheemore
Archibald McDonald of Keppoch
The New-Mown Meadow/My Love Is in America
Whistle Solo Set: Gan ainm/Port Shean tSeain/eamonn an cnvic
The Road to Lisdoonvarna/O'Keefe's Slide
Instrumentation: Tin Whistle, Chamber Orchestra, Guitar, and Fiddle

Running Time: 46:00

Available as a compact disc or cassette ($9.95 $10.98). Please indicate your preference when ordering. If ordering the cassette, the price will be adjusted upon receipt of your order but will not be shown on your program-generated receipt.

Also available as part of the specially-priced set called Celtic Journey with Celtic Portraits, and Celtic Harp Traditions.