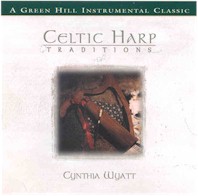 CELTIC HARP TRADITIONS by Cynthia Wyatt ($15.98)
13.95
GH: 5150

The music of the Celtic Harp has a mystical quality the transcends other forms of music. It is ethereal, yet definitive. It has form, yet it seems to move without barriers. Melodies from the ancient Celtic tradition are presented in this recording by Celtic Harpist, Cynthia Wyatt, with not only the necessary skill required to play such an instrument, but also the grace it so richly deserves. A firm traditional foundation is provided with other Celtic and acoustic instruments. Includes:
Summer Will Come
Apples in Winter/The Monaghan Jig
Idir Deighric
Lark in the Clear Air/Lord Inchiquin
Solstice/Star of the County Down
Lark in the Morning/Goodnight
Over the Hills and Far Away
The Famine Song/The Clergy's Lamentation
The Butterfly/Baltiorum
The Gentle Maiden/Give Me Your Hand
Moving Cloud
Sally Gardens Medley: Down by the Sally Gardens/I know My Love/Yellow-Haired Lad
Instrumentation: Celtic Harp, Penny Whistles, Uilleann Pipes, Hammered Dulcimer, Fiddle, Guitar, Flute, and Cello

Running Time: 48:00

Available as a compact disc or cassette ($9.95 $10.98). Please indicate your preference when ordering. If ordering the cassette, the price will be adjusted upon receipt of your order but will not be shown on your program-generated receipt.

Also available as part of the specially-priced set called Celtic Journey with Celtic Portraits, and Celtic Visions.