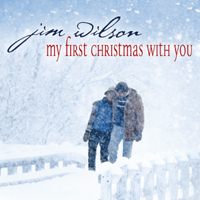 MY FIRST CHRISTMAS WITH YOU by Jim Wilson ($15.98)
12.95
GH: 5313

Jim Wilson, pianist and composer of musical imagery, follows up his popular releases Cape of Good Hope and Northern Seascape. With his tender treatments of Christmas standards, traditional carols, and original compositions, Wilson has again created a collection of passionate and paradisiacal music.
Doxology / Little Drummer Boy
Have Yourself A Merry Little Christmas (vocal by Stephen Bishop)
Greensleeves
O Come All Ye Faithful
Silent Night
O Holy Night
My First Christmas With You
Aspenglow
God Rest Ye Merry Gentlemen (vocal by Dan Fogelberg)
My First Christmas With You (vocal duet by Jim Wilson and Marilyn Martin)
River
River (bonus radio mix featuring Everette Harp)
Instrumentation: piano, uilleann pipes, irish flute, irish whistle, celtic harp, percussion, guitars, and synth keyboards

Running Time - 45:00

Available as a compact disc or cassette ($8.95 $10.98). Please indicate your preference when ordering. If ordering the cassette, the price will be adjusted upon receipt of your order but will not be shown on your program-generated receipt.

BONUS OFFER: Purchase any two (2) Greenhill Christmas titles on this page (including Old English Christmas, Christmas in the Smoky Mountains, On Christmas Day, Christmas Classics, Celtic Christmas Spirit and My First Christmas) and receive the CD or cassette (in the same format as your other items) of Christmas Collection 3 free!! Pay only $1 for additional shipping. This title will be automatically added to your order upon our receipt.