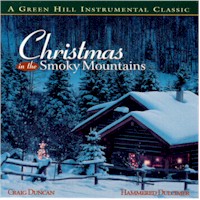 CHRISTMAS IN THE SMOKY MOUNTAINS by Craig Duncan ($15.98)
13.95
GH: 5124

Imagine you are surrounded by the beautiful Smoky Mountains, freshly covered by a blanket of snow. The sounds of traditional mountain instruments including the cheerful ringing of the Hammered Dulcimer fill the air with the steady and gentle sleigh bells of a passing horse drawn sleigh. This recording embodies all of the wonderful winter wonderland images that you see in your mind ... in music. Includes:
Tennessee Christmas
Deck The Halls
White Christmas
Sleigh Ride
I Saw Three Ships/Good Christian Men Rejoice
Sing Noel/Patapan
God Rest Ye Merry, Gentlemen
Hark the Herald Angels Sing
What Child Is This?
Silver Bells
Snowflake Reel
Angels We Have Heard on High
The Christmas Song
Ding Dong Merrily on High
Instrumentation: Hammered Dulcimer, Fiddle, Mandolin, Guitar, Bass, Penny Whistles, String Quartet, and Percussion

Running Time: 45:00

Craig Duncan is no stranger to the Nashville music community. His talents on violin, fiddle, hammered dulcimer, mandolin, guitar, bass, and viola can be heard on numerous Nashville recordings. A graduate of Appalachian State University and Tennessee State University, Craig is a member of the North American Fiddler's Hall of Fame and Who's Who in Music and Musicians. In addition to his recording credits, Craig Duncan has written over 30 music instruction publications for Mel Bay Publications.

Available as a compact disc or cassette ($9.95 $10.98). Please indicate your preference when ordering. If ordering the cassette, the price will be adjusted upon receipt of your order but will not be shown on your program-generated receipt.

BONUS OFFER: Purchase any two (2) Greenhill Christmas titles on this page (including Old English Christmas, Christmas in the Smoky Mountains, On Christmas Day, Celtic Christmas Spirit, Christmas Classics (qualifies by itself) and My First Christmas) and receive the CD or cassette (in the same format as your other items) of Christmas Collection 3 free!! Pay only $1 for additional shipping. This title will be automatically added to your order upon our receipt.