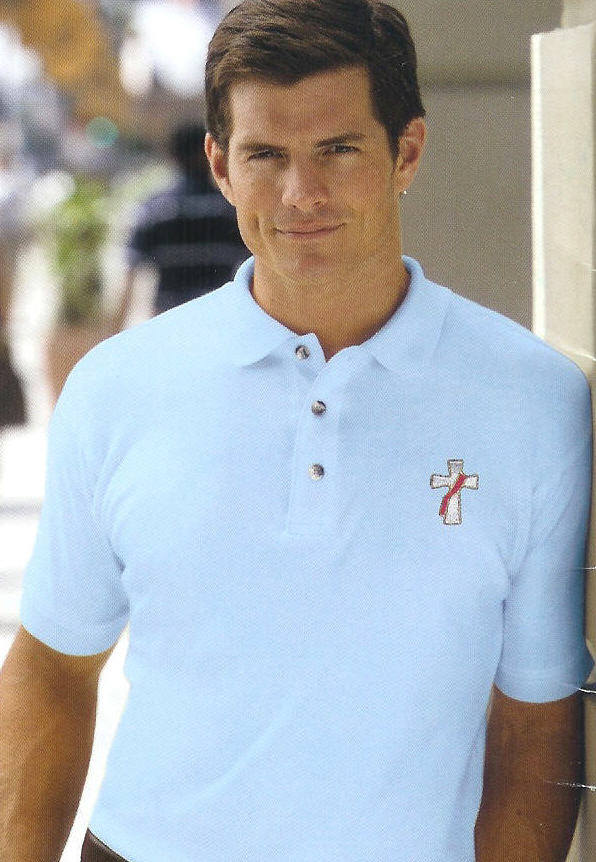 CLERGY POLO SHIRTS (Priest/Minister or Deacon)(Peruvian Cotton)(SS or LS)(with free shipping for 3 or more)
40.95 37.95 On Sale!
BV 2100 or 2102

These Clergy Polo Shirts are available for either Priest/Minister or Deacon in your choice of Black, White, Heather Gray, Stone, Red, Slate Blue, French Blue, Navy, Forest Green or Burgundy colors in either Short Sleeve or Long Sleeve styles and with a White Cross (and a Red Deacon's Stole on the Deacon's shirt) embroidered on a 100% Egyptian Cotton Polo Shirt. They feature a generous cut across the chest, at the arm seam and in length. You'll love the soft but durable texture of these shirts and they will proudly display your Ministry to all who see it.

Short sleeve shirts are available in Small, Medium, Large, X Large [all priced at $37.95 (list: $41)], XX Large [$44.95 (list: $50)], 3XL [$47.95 (list: $53)], or 4XL [$52.95 (list: $57)] sizes and coordinate with the Women's Short Sleeve Polo Shirt.

Long sleeve shirts are also available in Small, Medium, Large, X Large [all priced at $53.95] (list: $58), 2XL [$61.95](list: $67), 3XL [$63.95](list: $70), or 4XL [$66.95)](list: $73) sizes. Larger sizes are also available on a custom order basis with a two week delivery time.

Please indicate your preferences when ordering. If ordering the XXL or larger sizes, or the long sleeve shirt, the price will be adjusted upon receipt of your order but will not be reflected on the program-generated receipt you receive when you place your order.

May be ordered with embroidered parish names or other lettering for an additional $12 per shirt ordered. If you wish this option, please so indicate when ordering and provide the text you wish to use in the text box provided.

Order 3 or more shirts and get free priority shipping in the continental US!! (Shipping charges shown on your receipt will be removed before your card is charged.)

As a family owned business since 1998, we try to provide what the big guys cannot: personal service. You can always contact us and speak to a real person (or as real as we ever get!) via our toll-free number at 877-432-6745 or internationally at 732-714-7796 with any questions. Or you may email us at deaconsil@yahoo.com. We sincerely thank you for your patronage.

PLEASE NOTE THAT ACCORDING TO INDUSTRY STANDARDS, ALL APPAREL IS NON-RETURNABLE SO PLEASE ORDER CAREFULLY!!!