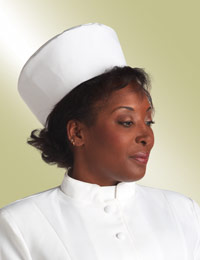 CROWN H-169
36.90 33.95 On Sale!
MUR: CH169

This elegant crown style hat provides the finishing touch for your all white ensembles. It is ready to ship within 24 hours of our receipt of order, and it is backed by the Murphy Qwick-Ship Guarantee of Satisfaction.

Construction details include:
Tailored in white Linette;
Designed to coordinate with the Women's Jacket H-104;
Available in half inch increments from 22 1/2" to 25".
Custom Crowns of this style are available with delivery in 6 to 8 weeks in your choice of sizes, etc. for $52.95 (list: $56)(MR116). Please contact us for more information via our toll free number at 877-432-6745.