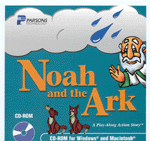 NOAH AND THE ARK (on CD-ROM)($10)
4.95

Help your children understand the concept of God's grace. The story of Noah and the Genesis flood teaches an important lesson about God's judgment over evil and his saving grace for Hoan and his family. Now you can send your children along with Noah onl his journey to this important discovery. They can make decisions that advance the story - and learn biblical values along the way! Ages 3-8.

You might also consider purchasing this CD along with three other favorite children's stories from the bible on four CD-ROM's at a special discount price: the Story of Creation, Daniel in the Lion's Den and Jonah and the Whale. For ages 3-8.