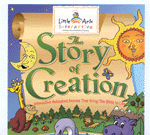 STORY OF CREATION, THE (on CD-ROM)($10)
4.95
PAR: 1-57135-312-7

"Long ago, there was nothing. Then god made the dry lands, water and the mountains from the seas.." And so the Story of Creation unfolds. In a richly animated tapestry of words and pictures, everything on earth, deep in the sea and high in the sky comes to life, accompanied by song and dance and exuberant celebration.

You might also consider purchasing this CD as part of a package with three other favorite children's stories from the bible at a special discount price: Daniel in the Lion's Den, Noah and the Ark and Jonah and the Whale. The package includes four CD's for ages 3-8.