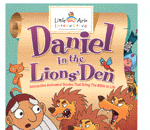 DANIEL IN THE LIONS' DEN (on CD-ROM)($10)
4.95
PAR: 1-57264-305-4

Your children will learn the protective power of faith on their journey through this famous biblical tale. Each colorful page entertains your children with animated surprises and clever dialogue that bring Daniel and the lions to life in an entertaining, non-denominational manner. Ages 3-8.

You might also consider purchasing this CD as part of a package with three other favorite children's stories from the bible at a special discount price: the Story of Creation, Noah and the Ark and Jonah and the Whale. The package includes four CD's for ages 3-8.