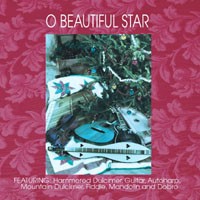 O BEAUTIFUL STAR (Instrumental Music for Christmas)($15.98)
13.95
GH: 5096

An old-fashioned Christmas celebration featuring acoustic instruments. Includes:
Sleigh Ride
Little Drummer Boy
O Holy Night
Good King Wenceslas
Hark the Herald Angels Sing
What Child Is This?
Holly Bears a Berry
Cold Is the Morning
Infant Holy
Silver Bells
In the Bleak Midwinter
Go, Tell It on the Mountain
Away in a Manger
Unto Us a Child Is Born
Come, Thou Long-Expected Jesus
O Beautiful Star
Instrumentation: Hammered Dulcimer, Autoharp, Guitars, Mandolin, Mountain Dulcimer, Fiddle, Dobro, Bass, and Percussion

Running Time - 44:00

Available as a compact disc or cassette ($9.95 $10.98). Please indicate your preference when ordering. If ordering the cassette, the price will be adjusted upon receipt of your order but will not be shown on your program-generated receipt.

BONUS OFFER: Purchase any two (2) Greenhill Christmas titles on this page (including Old English Christmas, Christmas in the Smoky Mountains, O Beautiful Star, On Christmas Day, Christmas Classics (qualifies by itself), Celtic Christmas Spirit and My First Christmas) and receive the CD or cassette (in the same format as your other items) of Christmas Collection 3 free!! Pay only $1 for additional shipping. This title will be automatically added to your order upon our receipt.