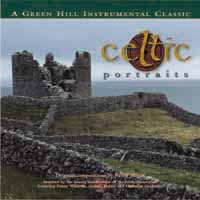 CELTIC PORTRAITS (Instrumental Music on Traditional Instruments)($15.98)
13.95
GH: 5078

Experience the magic and wonder of the Celtic tradition in ten original compositions inspired by specific images of Ireland. The imagery is majestically brought to life in true film score fashion. Includes:
The Walls of Dun Formna
The Road to Galway
Roundstone Bay
The Patron Saint of Ballyvourney
The Monastery at Kilmacduagh
Water Horses/At the Cliffs of Moher
The Old Castle
Twilight at Dunguaire
The Plassy Shipwreck
The Stone Table Dance
Instrumentation: Chamber Orchestra, Penny Whistle, Fiddle, Guitar, Bodhran

Running Time: 49:00

Available as a compact disc or cassette ($9.95 $10.98). Please indicate your preference when ordering. If ordering the cassette, the price will be adjusted upon receipt of your order but will not be shown on your program-generated receipt.

Also available as part of the specially-priced set called Celtic Journey with Celtic Visions, and Celtic Harp Traditions.